Seperti kita ketahui, Disney dan Google melakukan suatu kerjasama yang sangat unik. Meraka menamai proyek ini dengan sebutan Awaken the Force Within. Sebuah program yang memungkinkan para penggemar Star Wars untuk menikmati pengalaman dalam menyambut hadirnya film Star Wars: The Force Awakens melalui akun Google mereka.
Program yang baru berjalan ini memungkinkan kita memilih untuk bergabung dengan the Dark Side atau the Light Side. untuk mengikuti program ini pengguna harus terlebih dahulu masuk ke website resmi Google.com/StarWars kemudian memilih "jalan" masing-masing. Setelah mendaftar dalam program tersebut para pengguna sudah dapat menikmati penampilan baru dalam akun-akun Google mereka. Seperti penampilan baru dalam smart watch Android, Google Calendar, Chrome, Chromecast, Gmail, Google Maps, Google Now, Waze dan YouTube yang bersinergi dengan Gmail, Google Translate serta Google Search.
Baca Juga: Temukan "Awaken Force" dalam Aplikasi-aplikasi Google Anda
Tidak berapa lama, Google mengunggah sebuah kicauan teka-teki lewat akun Twitter-nya.
Kalimat pertama pada tweet tersebut adalah Hint: Search The Begining. Rupanya, kicauan itu meminta kita untuk melakukan pencarian dengan kata kunci "a long time ago in a galaxy far far away" Kalimat tersebut adalah kalimat pembuka yang selalu muncul untuk mengawali setiap film Star Wars untuk mendapatkan Star Wars The Force Awakens Easter egg,
Jika Anda melakukan itu, Anda akan disambut dengan hasil pencarian yang dibuat sedemikian rupa agar menyerupai layar pembuka film Star Wars, lengkap dengan audio khas buatan John Williams. Anda tetap dapat mengklik hasil pencarian tersebut dan bahkan menggeser ke atas dan ke bawah.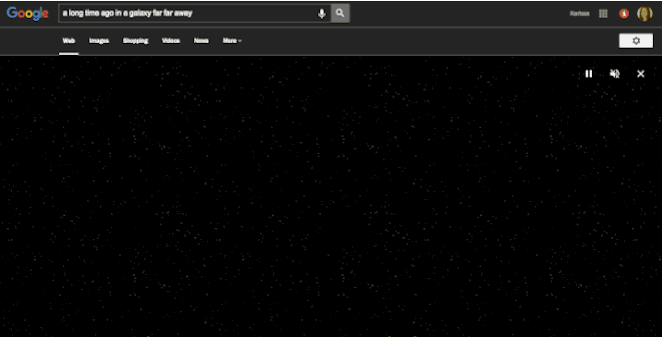 Keren kan Star Wars The Force Awakens Easter egg nya? Silahkan mencoba, May The Force Be With You.
Baca juga: 6 Fitur Keren Google yang (Mungkin) Tidak Anda Ketahui
Comments
Masih dalam rangkaian pemperkenalkan film pendek " Menjaga Rasa" Movie Mania dapat mengikuti kuis persembahan Makaroni Ngehe (Mahe) dan Cinemags, bagi pemenang yang beruntung dapatkan 1(satu) pcs Original Toy Wonder Woman
Namun dari sekian banyak materi promo tersebut hanya sedikit yang terungkap mengenai para villain yang akan tampil dalam film ini.
Sejumlah film "besar" dan sudah cukup lama dinantikan oleh para penggemar akan hadir pada bulan ini.